Hire Our Heroes (HOH) is a not-for-profit committed to honoring and serving our nation's defenders and veterans.
When you make a donation, we value the trust you've placed in us. Our mission is to do good whether through performance, mentoring and coaching veterans, rehabilitation services, or providing awareness campaigns for vets transitioning from the battlefield to the civilian workforce.
Hire Our Heroes is committed to helping our returning service members find rewarding careers nationwide with companies sharing our dedication to assisting these deserving men and women. The transition assistance services provided by Hire Our Heroes are carried out so that there is no cost to veterans.
The services provided by HOH are possible only with the continued and generous contributions of compassionate individuals and corporate supporters. All contributions are vital to our continued success. Please accept our heartfelt gratitude and our assurance that 100% of all donations will provide much needed support to our returning service members. Your contributions directly affect Hire Our Heroes' ability to effectively sponsor all aspects of the veteran's employment search.
Regardless of the size of your contribution, we hope you'll join us in standing with those who have done great things and have made enormous sacrifices for our country, and for our world.  All donations recieve an HOH t-shirt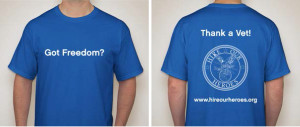 Online Donations
| | | |
| --- | --- | --- |
| Expeditionary Star | Good Conduct Star | Achievement Star |
| Your choice | $25.00 | $50.00 |
| Silver Star | Distinguished Service Star | Gallantry in Action Star |
| $100 | $250 | $500 |
| Soldiers Star | Meritorious Star | Longevity Service Star |
| $1000 | $2000 | Reoccurring Monthly Donation of your choice |
Thank you for your consideration and support.
Donation Types
Give now using credit/debit card. It's fast, easy and secure.
CORPORATE GIVING
Hire Our Heroes welcomes inquiries from companies who support our mission of serving out veterans.
MATCHING GIFTS
Many companies have programs that permit employees to donate to the charities of their choice, and match the employees' contribution on a one-to-one or greater basis. Please check with your employer to see if there is a matching gift program for employees. Normally, employees provide proof to their employer of their contribution, and the company contacts Hire Our Heroes, requesting that we complete a matching gift form they provide.
Most companies will ask for the federal tax identification number for the charity.
Ebay: Giving Works
Integrated into eBay's regular buying and selling platform, eBay Giving Works makes it easy for people to support important causes, both in the U.S. and abroad. It enables sellers to donate a portion of their sales and buyers to shop while supporting their favorite charities — all the while giving nonprofits an opportunity to engage new supporters.

Hire Our Heroes 501c3 status has been filed and is pending the IRS approval process. All donations are 100% tax deductible made possible by our fiscal sponsorship of the Winchester Rescue Mission, an approved 501c3.