Hire Our Heroes Provides Training Seminars for Transitioning Veterans
Hire Our Heroes (HOH) believes finding a new career path is the greatest challenge during transition out of the service; it is not a matter of "if", but a matter of "when."  HOH's primary goal is to help veterans figure out who they are before diving into their next career.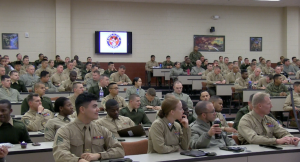 Hire Our Heroes held a transition program overview seminar for more than 350 veterans and active-duty service members at The Basic School in Quantico, VA on November 22.  The two-hour seminar was an overview to their program entitled "Six Phases to a Successful Career Transition" which provides professional tools and one-on-one guidance to veterans and active duty service members transitioning out of the America's armed forces.
Participants in the program are able to develop a personal and professional plan based on individual goals and needs.  These plans encompass career goals, continuing education, employment opportunities, resume development, and interview skills.
The focus of "Six Phases" is to "help veterans understand where they currently fall [in the transition process] and the necessary steps to take for a successful transition," said Dan Caporale, Executive Director of Hire Our Heroes.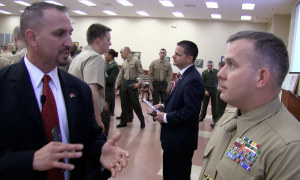 Upcoming seminars include, "The Transition Checklist", "Introduction to LinkedIn", "LinkedIn Advanced", and "LinkedIn for Veterans."  For more information about upcoming seminar dates, visit the Hire Our Heroes website at www.hireourheroes.org
Separately, Hire Our Heroes announces a new partnership with the Armed Forces Foundation (AFF).  "The Armed Forces Foundation (AFF) is eager to aide veterans needing assistance as they transition from the military," said Patricia Driscoll, the President and Executive Director of the AFF.  "The program presented by Hire Our Heroes is a great way for service members and veterans to better navigate the hiring process.  We're grateful for the work of HOH and our partnership." This partnership allows Hire Our Heroes to provide a free, round-trip ticket to qualifying veterans going on job interviews anywhere in the country Southwest Airlines flies
*** Hire Our Heroes (HOH) is a nonprofit organization founded and operated by veterans. The mission of HOH is to empower veterans and employers with the knowledge, skills, and innovative tools necessary to optimize a strategic workforce. The motivation behind this effort is to create a national approach to reduce veteran unemployment by partnering with world-class organizations and people who share in our vision to offer veterans a cost-free, best-in-class, transition experience.  HOH will secure opportunities for employment where our veteran population can cultivate their talents, traits, and attitudes.  This initiative will provide employers an overall talent acquisition and retention strategy, to make veterans a part of their workforce and restore hope to our service members that their sacrifices to the nation are never forgotten. ***