How Should A Veteran Prepare Their Resume?
Everyone who has ever tried to apply for a job knows that the resume is the most important first step in the application process. Not only that, it also happens to be the most important publication of your skills and capabilities. In order to be even considered for a job, it's very important to compose your resume perfectly without any mistakes such as grammatical and typographical errors. You may not realize it but employers often look for the finer details in a resume to determine whether you're as detailed as your resume says you are. How would an employer feel when you indicate in your resume that you have excellent written and oral communication skills, yet your resume is laden with mistakes. Any slight mistake like misspelling means your communication skills may not be as excellent as your resume claims you to be.
An applicant's writing skills are as equally important as his or her other skills enumerated on the resume. A well-written resume impresses the employer and will get you that much-needed interview for the final process before getting hired. In this in-depth guide to writing a resume, we'll show you all the important steps for making the perfect resume that you can use whichever profession you're applying for. We'll show you the top writing tips in composing the perfect resume that will impress even the hardest bosses and add guidelines for what to include in a resume. We'll even teach you how to make a cover letter as an introduction for your resume. Lest you forget, cover letters will introduce your person and will show your effort and determination in making your resume as comprehensive as possible. It's wrong to assume an employer is not interested in a cover letter. Many are and this will show them how dedicated you are in the application process.
This guide will offer you collective samples and creative resume templates with examples covering most professions. We'll even give you tips of what not to include in your resume. The templates will show you the format, design and layout that are equally important to produce a neat and easy-to-read resume. These include fonts, headers, bullet points and paragraphs. So grab your favorite chair, put on your reading glasses and read this extensive guide before drafting your own resume that will stand out from the rest of the other applicants' resumes.
Curriculum Vitae
It sounds like such a big, fancy word, doesn't it? While you may not often hear of job listings requiring interested applicants to send in a curriculum vitae, it is not a rare occurrence, especially in a more academic field. In almost every country, there would be instances when a curriculum vitae will be asked in place of a resume. Be ready for this by knowing all the need-to-knows in writing a curriculum vitae.
What is a Curriculum Vitae?
Curriculum vitae is a Latin phrase loosely translated in English to be the course of my life. A curriculum vitae, thus, is a written account of one's educational attainments, employment history, basic personal information, and other qualifications. It is typically written and submitted by an applicant interested in a position.
This entire chapter is dedicated to everything you need to know to write a curriculum vitae that is sure to achieve its purpose.
Curriculum Vitae vs. Resume
While the terms curriculum vitae and resume are often mistakenly used interchangeably, there are stark differences between the two. Knowing which is which might prove to be important especially when submitting requirements for an application.
One of the major differences that put the two apart is their contents. A resume is focused on your skills and what would make you stand out from the rest of the applicants. A curriculum vitae, however, is meant to focus on your academic achievements, honors you have received, or publications in your name. Additionally, where a resume is tailored to fit each job and company, a curriculum vitae stays constant. It changes only when you have achieved something new to be added in.
Another difference is their length. A resume is at most only two pages long. It is meant to be something a recruiter could give a quick glance at. A curriculum vitae, however, demands more attention. Because it is a detailed account of your achievements, its length would depend on how much you have achieved.
The amount of formality that a resume format and a curriculum vitae also differs from each other. Where a resume must remain some level of professionalism, it could also be colorful and creative, depending entirely on the job you're applying for. A curriculum vitae, however, is a strictly formal document.
Here is a table showing the major differences that make a curriculum vitae entirely different from a resume.

How to Write Your Curriculum Vitae
Here are some tips on what you should include and exclude in your curriculum vitae to make sure yours will make you a shoo-in for approval.If you're applying for a job, a position, or a grant in the academe, then you probably already know that what you need is a cover letter and a curriculum vitae, which is a detailed overview of your academic achievements. An impressive curriculum vitae is one that will truly be able to highlight your achievements, capabilities, and potential.
What to Include:
Unlike a resume, a curriculum vitae does not leave much room for customization or creativity. It is strictly formal, written to appeal to the academics who sit behind huge desks. Here are some information that are essential in a curriculum vitae:
Personal Details and Contact Information
Include your name and contact information in your curriculum vitae. If you are comfortable with it, you may also include your date of birth, ethnicity, civil status, and religion. These information are not essential in many countries with anti-discrimination laws. However, there are some countries that do not stop employers from refusing to hire someone based on discriminatory factors. You might want to check the labor laws of your countries to make sure.
Educational Attainment
Work backwards from the most recent degree you've earned to the first. Include the name and location of the institution from where you earned your degree and the year that you graduated.
Employment History
List your work history in reverse chronological order. That is, from the most recent job you had to the first. Include the name of the company you worked for and the responsibilities you had in that company.
Publications, Awards, Lectures, Grants, and Fellowships
If you have had articles published in your name or you've been awarded grants and fellowships, make sure to include them in your curriculum vitae. These are awesome achievements that you should definitely be proud of and would definitely boost your curriculum vitae.
Professional Licenses and Certificates
If you're a licensed professional (Passed the bar exam or board exam for any profession) or are a holder of a professional certificate, make sure to include this in your curriculum vitae. Not only is this impressive, this might also qualify you for a higher pay grade.
What Not to Include:
Granted, a curriculum vitae is a lot more detailed than a basic resume should be. However, there are information that you should keep out of your curriculum vitae. These include your photo, references, salary history, and the reason you left your previous job.
Knowing what to include and exclude in your curriculum vitae would make sure that you include all and only the relevant information that companies might look for.
5 Tips on Writing an Impressive Curriculum Vitae
For those who aspire to break into a career in the academe, it is important to have the kind of curriculum vitae that would show companies that you indeed have the kind of potential they are looking for. Here are some tips you could employ to write an impressive curriculum vitae:
1. Don't Undersell Yourself
It is important that you know your worth. Do not be ashamed of your achievements. Make sure that you include each and every achievement related to your career in your curriculum vitae, no matter how small the achievement may seem to you.
2. Only Include Relevant Information
If you're applying to be the dean of a prestigious law school, the institute probably would not care if you were the captain of the swimming team some 25 years ago. Only include information that is related to the position you are looking to acquire. Remember that a curriculum vitae is dedicated to your achievements related to your academic life.
3. Organize Your Curriculum Vitae
Make sure that your curriculum vitae does not look empty nor does it look too cluttered. Have the right spacing, use the right fonts, and organize the information in your curriculum vitae properly.
4. Edit and Proofread
Before submitting your curriculum vitae, it is important that you send in an error-free curriculum vitae. Any error, be it a typo or a grammatical slip, may be a complete turn off for your potential employer. You can have someone to look through a draft of your curriculum vitae and ask for their opinion.
5. Use Templates
Templates will help you get ideas on how you could properly format and organize your curriculum vitae. Although you shouldn't copy a template word for word, you can pluck inspiration from them. There are excellent template samples provided in this article.
Writing a curriculum vitae might seem like a big challenge but with the right guidance, it should be a breeze.
Resumes
Perhaps the most basic requirement you have to comply whenever you apply for a job is a resume. A well-written resume could make the biggest difference between getting the job you want or having to go back to the drawing board. In this chapter, you will find everything you need to create an impressive resume.
What is a Resume?
A resume is a document that contains information about you that is relevant to the job you are eyeing. Unlike a curriculum vitae, which contains detailed information about you, a resume would simply provide a quick brush through or a summary. It is meant to give the recruiter enough information about you in one glance. A resume is often – and is recommended to be – submitted coupled with a cover letter.
What to Include in a Resume
Simply put, a resume is a list of the reasons why you should be hired for a certain positions. This list must include several relevant information about you such as:
Your Contact Information
This is very important: do not forget to put your phone or mobile number and your email address in your resume. Without any way to contact you, it will be difficult for the recruiters to call you in for an interview.
Your Educational Background
State in your resume where you went to school and the years you were a student in the institutions. If you graduated with honors and awards, you may also say so in your resume.
Your Relevant Experiences
If you have had previous employment experiences related to the job that will give you an edge over other candidates, you should definitely include these in your resume. This includes volunteer work and internships.
Your Relevant Accomplishments
If you've won awards or was granted certificates on any activity that would prove your skills, strength, knowledge, or ability to do the job.
Your Skills and Qualifications
Skills and qualifications that would increase your chances of catching the attention of the recruiter should be included in your resume. You can also adopt the qualifications listed in the job listing. However, be sure that what you write in your resume are facts and not fibs. Make sure that your resume includes everything that a recruiter might be looking for since a huge chunk of their impression of you will come from the resume you submit to them.
What Not to Include in Your Resume
While making sure you don't miss anything in your resume, be careful not to include anything that might ruin your chances. Here are some of the things you should leave out when writing a resume:
Pre-College Days
Unless where you went to high school is particularly significant or impressive, there is no need to include this information. However, if you do not have a college degree, then you may include your high school.
Unrelated Accomplishments
If you're applying for a job as a lawyer, then it would make sense that you'd mention winning being the international debate champion. However, the recruiter does not need to know – and probably wouldn't care – if you won a singing contest as a 5-year old or you being the hotdog eating contest champ of your town.
Interests and Hobbies
Being a guitar player will only help you if you're applying to be a guitarist. Otherwise, save your interest and hobbies if they ask about it during your interviews.
Remember that whatever does not strengthen your resume weakens it. Carefully select what you should include in your resume to ensure you use the spaces of the paper efficiently. Remember that you are only given one page to impress the recruiter. Use this wisely.
Top 8 Resume Writing Tips
Resume writing is a skill essential to each and every job seeker. It is one of the most important documents you will present to a recruiter for a job you want. Here are 8 tips you should take note of as you write your resume:
1. Send your resume with a cover letter.
Some recruiters may not pay attention to your cover letter, but most would. A cover letter is your chance to put depth to the contents of your resume. Don't miss the opportunity by failing to send one.
2. Match the contents of your resume with what the company is looking for.
One way of grabbing the attention of the recruiter is by being exactly what they are looking for. Match your resume to the skills, knowledge, and other qualifications that they need. However, be sure that what you are putting in are true.
3. Use bullet points to make skimming through your resume easier and faster.
Writing your resume in paragraph form is going to take more time. More importantly, it will seem like too much work for the already busy recruiter. Coming across a resume in paragraph form might get your application tossed. So, unless they specifically specify that what they're looking for is a letter, just send in a resume and a cover letter.
4. Clean your resume.
Get rid of every irrelevant information in your resume that's just taking space.
5. Get creative with your resume…
If you're applying for a job that requires creativity and out-of-the-box thinking, then you can showcase your artistic skills in your resume.
6. … but retain a level of professionalism.
However, no matter how unique, colorful, or decorated your resume is, make sure to that you don't cross the line and remain professional.
7. Proofread and edit your resume.
Submitting a resume full of typos and slips would surely get your resume thrown out as soon as the recruiter lays eyes on it. Read through your resume once and again. Edit what you think has to be edited. If you can, you might even want to have someone else take a look at your functional resume so you can get an unbiased opinion on it.
8. Find good templates to use as a guide for your resume.
While a template should not be copied word for word, they do provide great ideas for how you could arrange your resume to be attractive and functional at the same time.
These steps may seem very simple but they could help you write the best resume of your life to get that job you really want and/or need.
How to Turn Your Resume Into a Job
So you've got a great resume done and you have been scheduled an interview. What's next? Before you jump for joy and crack open the champagne bottle, there are yet a few things you have to do to get your hands truly wrapped around that job.
1. Know the Contents of Your Resume
Whether you had your resume done by a professional, a friend, or by yourself, the same rules apply: know what you wrote down. During the interview, you will be asked questions based on what is written in your resume. Know how to answer them by knowing what is in your resume..
2. Research the Company and the Job
A quick Internet search should be able to tell you everything you need to know about the company and the job you're applying for. These are basic information that you should know as they are likely to come up during the job interview.
3. Know Your Weakness
Be sure that you will be able to answer for any gaps in your timeline. Have an explanation ready for what you think are weak links in your resume.
4. Prepare for the Interview
Avoid setting bad impressions by making sure you arrive early for the interview, are dressed well, and are properly groomed. Maintain eye contact (but not to the point of creepy) and be polite. Say good morning or good afternoon, and thank them for their time. Give a good, firm handshake before you leave the room.
The most important part of the job application process isn't just the simple resume but the entire process after it. The resume is just your ticket in getting your foot through the door.
Parts of a Resume
To be able to write a resume that would display and skills, capabilities, and potential in the brightest possible light, you should first be familiar with all the critical parts a resume must contain.
Heading
The format of your heading is entirely up to you. A heading contains your name and contact information. How you arrange these is entirely up to you. One recommendation when designing your heading is to make sure that your name is printed in large, bold print as it will catch the attention of the recruiter and might make your name easier to recall.
A heading could be as simple as your name written in a slightly larger font size than the rest of the contents and your contact information directly under it.
Resume Profile vs. Resume Objective
A lot of people would opt to leave out writing a basic resume profile or a resume objective, especially for those who have not yet gained the skills and qualifications for a job and for those who are eyeing entry-level positions. However, resume profiles and resume objectives often bear with them benefits that might give your resume an edge.
A resume profile is basically a condensed version of a cover letter. You could write a resume profile if the company specifically asked you not to include a cover letter with your resume. When writing a resume profile, you should remember to:
Keep it short and concise. Your resume shouldn't be longer than 3 sentences.
Focus on what is written in the job listing. Check out the skills and qualifications they listed.
A resume profile will tell the recruiter what you can offer the company. It is best used if your prior work experiences are unrelated to the job you want now.
On the other hand, a resume objective will tell the recruiters exactly the kind of job you are looking for. Remember to only use this if you are applying for a job that is of a higher position. When you are writing a resume objective:
Keep it short. A sentence or two should suffice.
Focus on what is written on the job description.
A resume profile and objective are usually optional. While they might have a slight chance of making your resume seem more credible, they are also mere repetitions of what you've already said or what the company already knows. So if you find yourself lacking space, you could scrap this part of your resume.
Educational Attainment
When writing your educational attainment, do so in reverse chronological order, starting from the last institution you've attended to the first. If you have a Master's Degree or higher, you can skip putting in where you went to high school (unless you went to a school with some sort of significance to the job you want to attend). In other words, the more degrees you earn, the more of the earlier days you could scrap.
Skills
When listing down your skills in a resume, make sure that they are not cluttered. Organize them by putting your hard skills first and your soft skills after. Hard skills are skills that you acquire through study and can be measured (conducting medical tests, experienced in the litigation process, languages spoken and fluency) while soft skills are skills that are intangible and are difficult to measure (interpersonal skills, etiquette).
Achievements
List only your relevant achievements. Just like with your educational attainment, list them down in reverse chronological order.
Relevant Experiences
Just like you did with the others, list all relevant experiences in reverse chronological order. This is because your latest endeavors are the most important ones. These are the endeavours that the recruiters would care about the most. Always include the name of the company you used to work for and the month and year when you started as well as the month and year you ended. Include internships and volunteer programs you partook in.
Extracurricular Activities and Interests
These are not necessary unless the activity or interest is largely relevant to the job you want. Otherwise, you can mention your interests and hobbies if you are directly asked about them during the interview.
Kinds of Resume
Types of Resumes
Since your resume is your advertisement of your skills and qualifications, It's very important that it has to be thorough and detailed. Depending on the kind of position you're applying for, it's imperative that your resume follows the type of format usually used for that kind of job. You need to be careful with your choice of resume type since not all types of resumes can be useful. For those who are experienced and have an impressive list of exposure to the kind of position required, your resume type should be different from one who is just starting out or one whose career choices and previous jobs are totally unrelated to each other.
With that in mind let's explore the various types of resumes, when to use them and who should use them:
A chronological resume is meant to showcase one's talents, abilities, skills and qualities. This kind of resume is laid out with the aim of impressing the employer to consider the candidate for the position available. It has a prominent Objective section or a Qualifications Summary where the candidate lists his or her career goal that may be integrated into the company's own goals to meet its objective.
A chronological resume usually lists a candidate's work history with his/her earliest work experience listed at the bottom and his/her recent job listed on top of the list in a reverse chronological order. It's easy to see why employers prefer this kind of resume – they can see the job history and how long the applicant worked for each of these positions. They can also see the applicant's related accomplishments along with accompanying certifications, awards and special skills that make the applicant stand out from the rest of the candidates.
While this type of resume is the most common and preferable among applicants, it's not advisable for those who just graduated fresh out of college and are just starting in their careers, and those who are making a career shift that's totally different from his/her previous positions held. A chronological resume works best for those applicants who have built a strong and solid work experience history.
Writing Tips for an Entry Level Resume
For those who are just starting out after graduating from either high school or college, it's quite absolutely terrifying to apply for a job position with no prior experience. The same might be said if you're changing careers which you're not used to, being new on the field. While there are lots of entry-level jobs that can be offered by employers, it helps that you'll get a couple of suggestions which might be helpful when writing an entry level resume:
List Your Previous Accomplishments but Be Thorough. Don't just make a list of your previous accomplishments, rather explain in detail your responsibilities and what experience you've gained by doing those tasks. While you may be a fresh graduate, any part-time job and special training you received have values that employers may find useful. That's why it's important that you describe your tasks and what you've learned from that experience because you may be placed in a position that incurs a lot of responsibilities.
Go Directly to the Point. Since your employer knows that you're applying for an entry-level position, always be mindful of your purpose to apply and go directly to the point instead of going around filling your resume with useless content. For a hiring manager who reads your resume, quality over quantity always matters. It means your qualifications, tasks and responsibilities that you're capable of are more important than any complex language you use explaining why you're applying for the position.
Provide a Compelling Summary Statement. While you may not be able to provide a summary of any work history or past experiences, you can go around that by making your summary statement as interesting as possible. Instead of writing about your lack of experience, focus instead on what your goals are and what those goals can do to help the company achieve its own goals. Writing a very useful summary statement means expressing your desire to grow along with the company and contribute to its growth. Stating in your summary statement that you want to advance your career while contributing work for the company's benefit means you'll have a bigger chance of getting hired than applicants who focus their summary statements on themselves alone.
Include Every Important Educational Information. Your educational background is as important as anything else in your resume. If you were an honors student with exceptionally high grades and had a GPA higher than 3.0, chances are, you'll be considered for the position well above other applicants who have average grades. The important aspects of your educational background you should include in your resume should be your high school and college achievements with grades to back them up. This way, your employer will know how intelligent and driven you are to succeed in your goals and become a potential asset to the company over time.
Include All Extracurricular Activities. Hiring managers often look for candidates who were actively engaged in extracurricular activities to gauge their enthusiasm, aggressiveness and dedication to a job. That's why it's important that extracurricular activities you were engaged in should be included in your resume. If the employer sees that you did a lot of volunteer work or was an officer in your class or contributed to your local paper, chances are, he'll consider you a good candidate for employment into the company.
Now that you know several tips to include in your entry-level resume, here are some mistakes to avoid, otherwise your resume will be bound to the trashcan, no matter how good or qualified you may be:
Lack of Online Presence. Online profiles like LinkedIn or social media sites offer employer insights to your character, which is one of the most important aspects that employers look for. This early, it's advisable to build a profile or an online resume even if you're just starting out. The more experience you gain, the more qualifications and skills you can add to your online resume.
Too Much Irrelevant Information. Keeping your resume neat and orderly means going directly to the point and being clear and concise with your intentions. Include only all useful and relevant information and get rid of anything not directly related to your objective of getting hired. Instead of writing a long, wordy resume that may bore the employer, keep it short and include only experiences directly related to the position you're applying for.
Typographical and Grammatical Errors. One of the gravest mistakes applicants commit when doing their resume is committing lots of typo and grammatical errors. Even if you use word check, there are words that are bound to get through the system since these are not perfect. Prepositions, misspellings and lack of commas are the most common mistakes. While these are minor and can happen to the best of us, grammatical mistakes are the worst form of mistakes anyone can possibly commit when submitting resumes, even professional ones. Proofreading is very important and the best way to point out the errors is to have somebody proofread your resume. This way, they can easily spot the mistakes more than you do, who tend not to notice the mistakes after reading your own resume too many times.
Using a Generic Resume. Making a resume is not a one-size-fits-all thing. Most fresh graduates commit this most common blunder of using a generic resume thinking they can use those, having had no previous work experience they can refer to or write about. Even if you're a fresh graduate, it's very important that your resume fits the specifics of the job you're applying for. You need to include specific key phrases from the job description and avoid copy-pasting and generalized resumes. If that happens, the employer will tend to reject your application, having concluded you don't have the slightest idea of what you're applying for.
Cover Letters
A cover letter is an essential document that goes with a resume. While some recruiting officers and employers might not read a cover letter, many do and will trash an application that does not come with it.
Having a well-written cover letter might make the biggest difference between being called in for an interview or not. This chapter will tackle everything you need to know about writing an impressive cover letter to go with your resume.
What is a Cover Letter?
A cover letter is written to introduce the applicant to the recruiter. It is meant to complement and add to the information you included in your resume. It is very important to note that a cover letter is supposed to provide more information about you; it is not and should not be copying the same pieces of information that can be found in your resume.
Why Should You Write a Cover Letter
Granted, there are employers who would skip the first page and dive right into your resume. However, you can't predict whether or not the person who would be reviewing your application is strict about cover letters.
There is a lot that your cover letter might say about you. The way you coin words together and phrase ideas could reveal a lot about your personality, what you value, and the skills and accomplishments you're most proud of. Furthermore, your cover letter would also demonstrate your written communication skills by how well you are able to put thoughts together to form an entire letter that would appeal to your potential employer.
Your cover letter could make or break your employment opportunities. Take advantage of the chance to explain and endorse yourself by writing a cover letter that would impress any recruiting officer.
How to Write a Cover Letter
While it's true that not every potential employer will read your cover letter, there is no way of knowing for sure on whether the ones screening applicants for your desired position won't. That said, it is understandable why it is highly recommended that you submit a cover letter to accompany your resume.
However, know that a poorly written cover letter is just as bad as not having a cover letter at all. If anything, it might even fully steal any chance you have of getting called in for an interview.
A typical cover letter would have eight parts: the header, the date, the recipient, the opening salutations, the body of the letter, the closing salutations, and finally, the signature.
The body of a cover letter contains the "meat" of the letter. It is the most important part of the letter and would usually consist of these four parts:
The 1st Paragraph
The first paragraph is the introduction paragraph. This is where you tell the reader the reason you're writing to them. Be straight to the point. There is no need to beat around the bush or look for colorful words when writing a cover letter. Remember that the recruiter might be very busy so avoid wasting their time. By the time they finish reading the first paragraph, they should already know why you're writing.
The 2nd Paragraph
The second paragraph is the paragraph that backs up what you wrote in your resume. This is where you tell the reader of your letter why you're good for the job. Talk about your experiences and skills here. You can even cite situations that could strengthen the skills and interests you claimed to have in your resume.
The 3rd Paragraph
The third paragraph is where you tell the person reading your letter why you're great for the company. This is where you sell yourself to them, tell them why you – among all the applicants for the job – are the most worthy investment for the company. The company isn't just looking for someone who would benefit from them, they want someone who they could offer something to the company.
The 4th Paragraph
The last paragraph of the letter is where you put yourself forward. You end the letter with a call of action. Some people do this by asking the company to call them at a certain day and time. If the call does not come, they know it's time to look for another job. This is a less anxiety-inducing approach. Other people inform the company that they will be dropping by to talk about the job on a certain date and time. They are taking control of the situation and making sure that they get to talk to someone in the company.
Knowing how to write a cover letter is not enough to be able to truly impress recruiters. You have to be able to write the kind of cover letter that clearly shows your skills and abilities and would make the recruiter know that you are indeed qualified for the job.
5 Tips in Writing a Cover Letter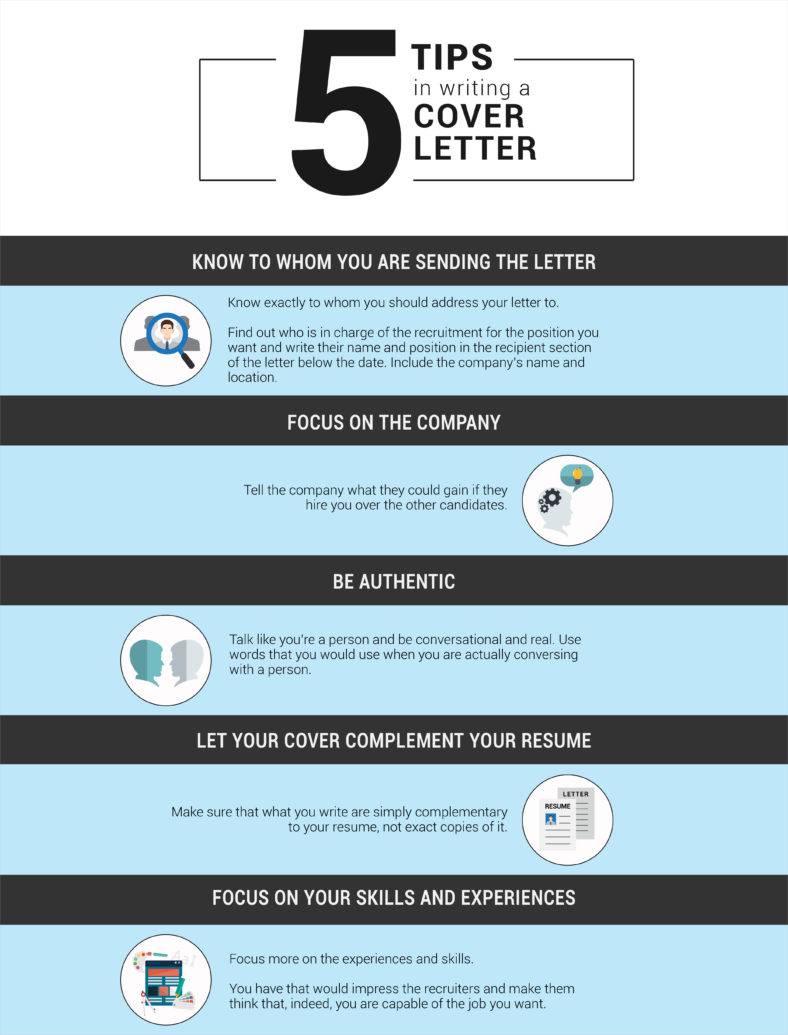 Your cover letter and resume are the basis of your potential employer or recruiter's first impression of you. While a resume may contain the information that the recruiters might need, it is the cover letter that gives justification to the contents of your resume. To write an impressive cover letter, keep these tips in mind:
1. Know to whom you have to send the letter.
Know exactly to whom you should address your letter to. A general "to whom it may concern" would not do. Find out who is in charge of the recruitment for the position you want and write their name and position in the recipient section of the letter below the date. Include the company's name and location.
2. Focus on the company.
The company is well aware that you can benefit from getting this job. You don't have to suck up to them. Instead, sell yourself. Tell them what would make you perfect for that job and what you could offer the company that others cannot. Tell the company what they could gain if they hire you over the other candidates.
3. Be Authentic.
If you keep using words that are so overused by the industry, don't expect that the recruiter – who has read thousands of other letters that use the exact same terms – will be anything other than bored when reading your letter. When writing a cover letter, talk like you're a person and be conversational and real. Use words that you would use when you are actually conversing with a person. Sounding conversational might give the recruiter a feeling of intimacy or friendship which might increase their chances of liking you.
4. Let your cover letter complement your resume.
If you're just going to put the exact same things in your resume in your cover letter, then you might as well just skip the cover letter and save paper and time, right? A cover letter's purpose is to introduce you, highlight your relevant experiences, and give depth to the contents of your resume. Make sure that what you write are simply complementary to your resume, not exact copies of it.
5. Focus on your skills and experiences.
Recruiters are more likely to look at how well you could do the job than whether or not you did well during your school days. I'm not saying your educational attainments are not important, because they are! How well you do in school would also be a factor that some employers consider. However, focus more on the experiences and skills – these include internships, volunteers, and clubs you may have joined – you have that would impress the recruiters and make them think that, indeed, you are capable of the job you want.
While there is no one set of hard rules when writing your cover letter, these tips will undoubtedly help in making sure that you will be called in for an interview. Although the contents of your cover letter are largely important, the way you arrange and present it would also have an impact.
The Format of a Cover Letter
Just like with any professional business letters, there is a need to follow proper protocol for the appearance of a cover letter. However, this would depend on the kind of job that you're applying for. Jobs that require creativity like graphic artists, painters, sculptors, publicists, and marketers might want to include a bit more color into their work. Other jobs like lawyers, doctors, nurses, and office secretary are more likely to have to stick to the traditional look of a cover letter.
The Traditional Cover Letter
A traditional cover letter would follow the same format as most business letters. Most letters are indented and justified. Personally, I prefer that the paragraph style is blocked, that is, justified with no indentions.
The format most cover letters would take would be:
Header
The header goes on the top of the page. In it is the name, contract information, and email address of the applicant.
Date
The date of application or the date that the letter was written is typed in,
Recipient's Address
On the first line, write the recipient's name with their corresponding title. Use "Ms." if you are unsure whether a woman is married or not. If you do not know the sex of the recipient, omit the honorary. It is better to not have it than have it wrong. Remember that addressing the recipient as "to whom it may concern" is not advisable. At all.
Opening Salutation
You can use "Dear" as an opening salutation but if you are uncomfortable with this, you are also free to just type in the recipient's name or substitute "Dear" with "To."
Body
The body of the letter is the most important part of it. Make sure to go straight to the point and highlight only the most relevant information.
Closing Salutation
Close the letter with a thank you and a "Sincerely." Remember not to use a closing salutation that might be too intimate lest you creep the recipient out.
Signature
Manually put in your signature using a nice black pen.
These are the basic contents of a cover letter. When writing a cover letter, it would be wise that you look through templates to use as a guide. In here, we have provided templates that you could make use of however, make sure that you do not copy the letter word for word. A cover letter is meant to introduce you so make sure that the contents of your cover letter are specific to you.
Templates
Resume Profile and Resume Objective Samples
If you want your resume to be noticed and considered by the hiring manager among all other applicants' resumes, consider putting both a profile and career objective on your resume. A profile, otherwise known as a professional summary, can either be a paragraph or bullet list form, which details your skills and expertise that are useful for the specific position that you're applying for.
When putting a professional resume profile, the four key points have to be considered:
Experience and Education. If you've had quite an extensive experience, you need to enumerate them and include individual job titles. Begin by stating your years of experience in a particular position. These are the highlight of your resume that an employer is looking for to know how qualified you are for the position.
If you're a fresher, focus on any previous part-time jobs, volunteer work or extracurricular activities which you think are relevant for the position.
Specialty Area of Expertise. Point a particular area of expertise. Say, for example, you're a civil engineer with several building constructions under your belt, you may point out how you excel at structural engineering. You may name each particular project and present accompanying certificates and awards to prove your expertise on such a field. This will give your resume more weight and increase your chances of getting hired.
Write Down Your Skills. List down your most relevant skills that you think may be very useful for the company you're applying for. For example, if you're applying as a physics teacher, you can state that you're an expert in quantum physics, particularly in quantum field theory where you can teach students on the particulars of atoms and subatomic particles. You can add any certificates and licenses that you have earned and garnered for your previous work on the field. This is sure to give you an edge over other applicants.
Your Achievements. Your career achievements and any awards and certificates given by your previous employers can be a very big factor which will get you hired in no time. For example, if you were working as a purchasing supervisor before, you may state that you implemented cost-cutting measures which saved the company thousands of dollars in its purchasing costs. You should also give any evidence to prove you were awarded for your effort.
Find examples of resumes and templates in the original article published by Template.net here: https://www.template.net/business/resume/an-in-depth-guide-to-resumes/
https://www.cleverism.com/resume-buzzwords/
Please follow and like us:
1 comment